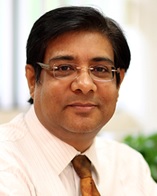 Dr. Sanjay Swarup
Associate Professor
Department of Biological Sciences
&
Deputy Director
NUS Environmental Research Institute
National University of Singapore
Director, Graduate Program & Deputy Research Director, Engineering Systems | Singapore Centre for Environmental Life Sciences Engineering (SCELSE) | Nanyang Technological University
Prof. Swarup is an Associate Professor in the Department of Biological Sciences at the National University of Singapore (NUS), Deputy Director of the NUS Environmental Research Institute and Deputy Research Director at the Singapore Centre for Environmental Life Science Engineering, Nanyang Technological University, Singapore and a founding co-PI of NUS strategic initiative in Synthetic Biology. Prof Swarup's group has been working on understanding the biological role of metabolites in plant and microbial systems using integrative omics and hypothesis-driven approaches. His team has a special interest in metabolomics approaches to understand microbial functioning in the environment and on plant surfaces. Prof Swarup's team has developed a research framework to integrate effects of environmental stressors with functional responses of environmental microbiomes of urban freshwater systems and of tropical peatlands. This has led to science-based environmental solutions for improving management of these freshwater and peatland systems.
---

Dr. Bill Keevil

Professor
Chair in Environmental Healthcare, Principal Investigator (Microbiology & environmental health), Director of the Environmental Healthcare Unit, Chair of the University Genetic Manipulation and Safety Committee, Member of the University Safety & Occupational Health Committee.
Prof. Keevil is Head of the Department of Microbiology Group. University of Southampton, UK. He is also the Director of the Environmental Healthcare Unit. University of Southampton, UK. Dr. Keevil was scientific advisor to the House of Commons Select Committee on Science & Technology, London, UK from 2003-2005. His research area mainly focuses on Physiology and adaptive mechanisms for survival of pathogens, in vivo and in vitro e.g. Legionella, Helicobacter, E. coli O157, MRSA, C. difficile, Biofilms in the environment, the built environment and clinical practice, Physiology and adaptive mechanisms for survival of pathogens, in vivo and in vitro e.g. Legionella, Surface contamination, including prions; fouling and corrosion and Survival of sublethally damaged pathogens in water and human and animal wastes recycled to agricultural land, e.g. E coli O157 Salmonella, Campylobacter, Listeria, Cryptosporidium.
---

Dr. Abhishek Dutta
Assistant Professor,
Materials Technology TC, KU Leuven,
Campus Groep T Leuven, Belgium
Dr. Abhishek Dutta has an interest in the field of Chemistry and Mathematics. His work focuses on the kinetic aspects of (bio)chemical systems that make him explore sub domain of Biochemical Engineering, which has immense application in human life and sustainability, in the eventual goal of process intensification. His doctoral studies were in the field of Chemical Engineering from Ghent University Belgium developing mathematical models and he kept working in the mathematical aspects of Bioengineering during his post-doctoral research, also from the same University. Presently, he is in the Faculty of Engineering Technology at KU Leuven, Campus Groep T and his research mainly focuses on the energy and temperature optimisation for high temperature reactor systems in process metallurgy.
Dr. Abhishek Dutta has maintained an active research interest in Biochemical Engineering. In 2018, he was awarded the EU TECO mobility grant on the development of an integrated system for improved resource recovery in East Kolkata Wetlands (EKW) which he worked with the Chemical Engineering Department of Jadavpur University, Biotechnology Department of University of Engineering & Management (UEM) and East Kolkata Wetlands Management Authority (EKWMA) of the Government of West Bengal, Kolkata, India.
---

Dr. Sujoy Kumar Das Gupta
Professor, Microbiology
Bose Institute, Kolkata
Prof. Das Gupta joined Bose Institute as a faculty member of the Department of Microbiology. He continues to be a member of this department and is currently serving as its Chairman. At Bose Institute, his research program is mainly targeted towards understanding the DNA replications mechanisms of bacteriophages and plasmids of mycobacteria. Considering that these entities are used often used to genetically engineer mycobacteria for the sake of developing vaccines and understanding their molecular biology, therefore understanding their molecular biology is of importance. A major program in his lab is the investigation into the replication mechanism of pAL5000, a mycobacterial plasmid. While investigating this aspect Prof. Das Gupta's lab came out with a series of novel findings. Thus, his lab first demonstrated that the folding properties of polypeptides are enhanced remarkably if their synthesis occurs in a translationally coupled manner. The other novel outcome of his investigations was the finding that, that there is most likely an evolutionary connection between replication and transcription as there are many interesting similarities between how the replication proteins of this plasmid pAL5000 function and the way the transcription machinery acts.
In the area of Mycobacteriophage research, Prof. Das Gupta has investigated how mycobacteriophages interact with mycobacteria, by using mathematical and experimental tools in collaboration with Dr. Soumen Roy of the Department of Physics Bose Institute. His research has given new insight into how mycobacteriophages infect mycobacteria causing their death. Two publications in which he was the corresponding author were selected as spotlight articles in the journals, Journal of Bacteriology and Applied Environmental Microbiology.
Apart from his own programs, Prof. Das Gupta has been one of the Principal Investigators of the multi-centric program "New Millennium Indian Technology Leadership Initiative (NMITLI)" project on Latent tuberculosis, New Targets, drug Delivery systems and bio-enhancers and Therapeutics (Multicentric project) CSIR (2001 – 2005). While executing this project Prof. Das Gupta led a team of scientists at Bose Institute to perform research in the area of drug development against TB. Their collective efforts led to the filing of an international patent and several publications.
---

Dr. Uday Bandopadhyay
Senior Principal Scientist
IICB Kolkata
Dr. Uday Bandyopadhyay is a Senior Principal Scientist at CSIR CSIR-Indian Institute of Chemical Biology and Professor of Biological Sciences (Academy of Scientific and Innovative Research, Govt. ofIndia),Kolkata. Dr. Bandyopadhyay's research focused in the area of cell biology with particular reference to mitochondrial oxidative stress in relation to initiation of gastric ulcer/gastropathy by commonly prescribed non-steroidal anti-inflammatory drug (NSAIDs). His studies were aimed to define the molecular basis as well as players of developing mitochondrial oxidative stress and gastric mucosal cell apoptosis as result of electron transport chain defect induced by NSAIDs. He proved that correction of mitochondrial pathology and subsequent inhibition of gastric mucosal cell apoptosis is a novel rationale for antiulcer therapy. Besides outstanding contribution in the field of gastric pathophysiology, he also made a remarkable contribution in the field of malaria and established that the development of oxidative stress in malaria parasite is a novel way to develop new antimalarial by designing new redox active molecule. He characterized an Alba-family protein from human malaria parasite Plasmodium falciparum and reported its binding to the telomeric and subtelomeric regions as well as to var gene promoter to control gene expression. Dr. Bandyopadhyay was awarded Fellowship by Alexander von Humboldt Foundation (Germany), INSERM fellowship (France), J.C. Bose National Fellowship (India), A. N Bhaduri Award from the Society of Biological Chemist (India) and Prof. R. C. Shah Memorial award by the Indian Science Congress. Prof. Bandyopadhyay is an elected Fellow of Indian National Sciences Academy, Indian Academy of Sciences, National Academy of Sciences India and West Bengal Academy of Sciences and Technology.
---

Dr.Ramkrishna Sen
Professor
Department of Biotechnology
IIT Kharagpur
Dr. Sen's research interest focuses on Green Process & Product Development for Healthcare Energy & Environment by Microalgal Microbial Biorefinery for Biofuels &Biorenewables, Algal Biofuels with Waste valorization & Bio-CCS Bioprocess Integration Intensification, Optimization Biochemical & Bioprocess Engineering Enzymes and Biofuels Technology, Biomass & Bioenergy Environmental & Marine Biotechnology Probiotics and Nutraceuticals Biosensor development.
Dr. Sen received Distinguished Alumnus – Jadavpur University, Kolkata (2017). He was Fulbright Visiting Faculty (2013-2014) at the Columbia University in the City of New York, Manhattan, NY 10027, USA. (2014).He was Runner up (2nd Prize) of the 3rd National Awards for Technology Innovation in Petrochemicals & Downstream Plastic Processing Industries. (2012) and also received UKIERI (British Council) Award for Exchange Visits (UK – RHUL & University of London, London and University of Ulster, Northern Ireland) (2007).
---

Dr. Rita Kundu
Professor
Department of Botany
University of Calcutta

Dr. Rita Kundu, Professor of Calcutta University, Department of Botany. Her specialization is on Cell Biology and Genetics. She did pioneering research in Cancer genetics. As part of her work in cancer biology she worked on inducing cell death either through apoptosis /autophagy /any other way, in the cervical cancer cell lines using traditional medicinal plants and other organic sources ( marine/ fresh water algal compounds, microbial compounds ,synthetic organic compounds)to regulate cell proliferation. She has also worked on phytoremediation. Presently her prime interest is to identify the metal resistant crop (rice) verities of south West Bengal and study their stress responses. She is the author of numerous papers of both national and international reputes.
---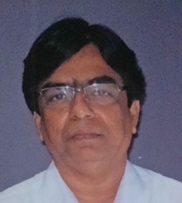 Dr. Manabendra Dutta Choudhury

Professor
Department of Life Science & Bioinformatics
Assam University India
Dr. Dutta Chudhury is a senior professor working in the field of Medicinal Plant research and computer aided drug discovery.He is a recipient of several prestigious awards like Indo-Hungarian Fellowship Award, UGC-TEC Fellowship Award and several award s from various National and International agencies.
---

Dr. Padmaja Prasad Mishra
Associate Professor
Chemical Sciences Division
Saha Institute of Nuclear Physics, Kolkata
Dr. Mishra, Associate Professor of Saha Institute of Nuclear Physics, Chemical Sciences Division. His specialization is on single molecule spectroscopic studies of DNA and DNA structural motif dynamics. Some of his pioneering research involves conformational changes and complete unzipping of dsDNA by surface modified Gold Nanoparticles, Bubble dynamics and DNA flexibility in presence of base pair mismatch, smFRET studies of chaotic dynamics during restricted branch migration of IHF bound Holliday Junctions, smFRET Studies of hybridization mechanism during the noncovalent adsorption and desorption of DNA on graphene oxide etc. Presently his prime interest is to study the repair mechanism of double strand DNA break , non-homologous end-joining of double strand DNA breakage and structural dynamics of transcription termination.
---

Dr. Saumyabrata Mazumder
Research Scientist
Premas Biotech, Gurgaon, India
Dr. Saumyabrata Mazumder is a Research Scientist at Premas Biotech, Gurgaon, India since 2016. Currently he is leading Mammalian Cell Culture team. His research group at Premas Biotech mainly involved in cell line development for recombinant proteins and bio-therapeutic monoclonal antibodies, process development at bioreactor level for yield enhancement, characterization of the molecules and elucidation of their functional activities. His expertise includes bioassay development for recombinant proteins and therapeutic monoclonal antibodies, and vaccine development against infectious diseases. Dr. Mazumder holds a Ph.D. in Life Science from Indian Institute of Chemical Biology, Kolkata, India. His doctoral study was in the field of vaccine development against experimental visceral leishmaniasis. He did his postdoctoral study from Biozentrum, University of Basel, Switzerland and worked in the field of drug discovery.
---

Dr. Chiranjib Bhattacharjee
Dean of Faculty of Engineering & Technology
Jadavpur University, Kolkata, India

Dr. Bhattacharjee is presently the Dean of Faculty of Engineering & Technology (FET), former Registrar, Professor & Former Head Dept of Chemical Engineering Jadavpur University, Kolkata, India. His research area mainly focuses on Mass transfer studies in Ultrafiltration, Simulation of Ultrafiltration process, other membrane separation processes like emulsion liquid membrane, etc, Wastewater treatment with specific emphasis on the membrane route, Bioremediation and Bioprocess Engineering. He supervised many Ph.D and Post graduate research works. He has many research publications at journals of National and International reputes.
Important Deadlines
[table id=2 /]
Previous

Conferences
BIOSPECTRUM 2018
BIOSPECTRUM 2017
Search
Announcements
Best Paper Award
Best Oral Presentation
Best Poster Award
Accepted and Presented Papers will be published as Conference Proceeding of Taylor & Francis