---

Dr. Shalini Dhyani
Senior Scientist, CSIR-NEERI
Dr. Shalini Dhyani is Senior Scientist with Critical Zone Research Group at CSIR-NEERI, Nagpur. She is South Asia Regional Lead for IUCN CEM, IPBES Lead Author for Asia Pacific Biodiversity and Ecosystem Services Assessment and ongoing Global thematic assessment on Sustainable Use of Wild Species. She has more than 17 years of work experience on the interlinkages between ecological, human and social systems through sustainability science approaches. Her work focuses on Science-policy integration for better biodiversity and ecosystem inclusive decision making for impact assessment, conservation and restoration for climate change adaptation and disaster risk reduction. Her work on restoring village wastelands for sustainable forest management in Western Himalayas was recognised by IUCN and SAARC forestry center, Bhutan and her recent co-edited volumes on Nature based Solutions and BG Infrastructure for Asia can be relevant reads.
---

Dr Debbie Bartlett CMLI FCIEEM SFHEA
Professor of Environmental Conservation
Faculty of Engineering & Science
University of Greenwich
Dr Debbie Bartlett, Professor of Environmental Conservation at the University of Greenwich, has over 30 years experience combining consultancy, research, and teaching.  She is particularly interested in landscape scale restoration and management, including the social and economic influences affecting resilience to environmental/climate change.  She believes that local people and wider stakeholders are fundamental to achieving conservation management and is actively engaged in developing participatory techniques to include wide perspectives to inform land use planning and development strategies. Recent research projects include urban heat stress mitigation using Nature Based Solutions, and solutions for the super abundance of Sargassum in the Caribbean. She has an ongoing interest in knowledge exchange as well as pedagogic research.
---

Prof. Suparna Mukherji
Head of the Sophisticated Analytical Instrumentation Facility (SAIF),
Centre for Research in Nanotechnology and Science (CRNTS) at IIT Bombay
Prof. Suparna Mukherji is the Head of the Sophisticated Analytical Instrumentation Facility (SAIF) and Centre for Research in Nanotechnology and Science (CRNTS) at IIT Bombay. She is Institute Chair Professor in the Environmental Science and Engineering Department (ESED) at IIT Bombay. After obtaining B.Tech. in Energy Engineering from IIT Kharagpur (1989), she obtained a MS in Civil and Environmental Engineering from Clarkson University (1991) and a Ph.D. in Environmental Engineering from The University of Michigan, Ann Arbor (1997). She was awarded the AICTE career award for young teachers, by AICTE in 2000 and the National Women Bioscientist Award (Young Category) by DBT, in 2009. Prof. Suparna Mukherji is a Fellow of the Indian National Academy of Engineering (INAE), and the Institution of Engineers, India (IEI). She is Associate Editor of Applied Nanoscience (Springer, since 2011) and Journal of the Institution of Engineers India (Series A) for Environmental Engineering (IEI and Springer, since 2017). Her research interests include bioremediation of oil spills and hazardous organic compounds; industrial wastewater treatment; monitoring of viruses and micropollutants in water and wastewater; application of nanomaterials for water treatment and monitoring and mitigation of environmental antimicrobial resistance.
---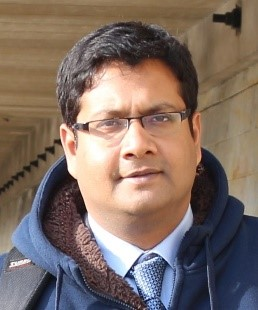 Dr. Rajarshi Dasgupta
Institute for Global Environmental Strategies
Dr. Rajarshi Dasgupta is presently working as a senior policy researcher at the Institute for Global Environmental Strategies. His research interests are risk-sensitive land use planning, Ecosystem-based Disaster Risk Reduction (Eco-DRR), socio-environmental scenario planning, spatial ecology, community-based conservation, and disaster risk management. He has been involved in multiple field-based action research related to community planning and disaster risk management in South and Southeast Asia, particularly in India, Bangladesh, Myanmar, and the Philippines, supported by the Japanese government and other multilateral funding agencies. Dr Dasgupta authored/co-authored nearly 50 peer-reviewed papers in reputed international journals, and edited a book with Springer on Participatory Mangrove Management in Changing Climate. He also served as a Lead Author (LA) for the Intergovernmental Science-Policy Platform for Biodiversity and Ecosystem Services (IPBES) Asia-Pacific Regional Assessment Report (2015-18). He is currently serving as the Lead Author for the IPBES assessment on Sustainable Use of Wild Species (2018-21) and a Chapter Scientist / Contributing author for the Intergovernmental Panel on Climate Change's (IPCC) sixth assessment report (WG II). He also serves as a Visiting Assoc. Professor at the Institute for Future Initiative, the University of Tokyo, and a guest lecturer at the United Nation University, Tokyo.
---

Dr. Nabin Kumar Dhal,
Chief Scientist – Head
CSIR – Institute of Minerals and Materials Technology 
Dr. Nabin Kumar Dhal earned a Ph D degree in Floristic and Ethno botanical studies from Utkal University under the guidance of Late. Dr. M Brahmam. He has research experience of 26 years as Senior Principal Scientist in Environment and Sustainability Department of CSIR- Institute of Minerals and Materials Technology (formerly RRL), Bhubaneswar and looking for the exploration of natural resources of Odisha, especially floristic survey, ethno botanical studies, Biodiversity conservation, Bioremediation, Antimicrobial activities and Phytochemical screening of medicinal plants and utilization of solid waste as a substrate in agriculture. He has published more than 180 research papers in different National and International journals and handled 24 research projects funded by different funding agencies ten students have been awarded Ph.D under his guidance and four scholars are in the pipeline..He has made excellent contributions towards floristic study of Malkanagiri, Nabarangpur district and quantitative assessment, biological spectrum, and phytosociology (Eastern Ghats of Odisha) for the conservation of targeted threatened taxa. His work has led establishment of herbal gardens and development of a state-of-art of herbarium (15,000 plant specimen) for sustainable development of Biodiversity Conservation creating ample scope for earning revenue. His contributions on removal of toxic heavy metals using selected hyper accumulating plants (Schleichera oleosa, Calophyllum inophyllum and Bixa orellana) highlight significant steps towards green technology for sustainable development of mining areas of Odisha. He has reported the occurrence of Corallodiscus Batalin (Gesneriaceae), a new generic record for Easternghats, Orissa." in Current Science and rediscovered two species i,.e Tephrosia tinctoria and Aniseia martinicensis from Orissa and editor of a book " Plant Science" ( Publisher-In Tech, Croatia). He is the fellow of Society of Ethnobotany, Indian association for Angiospermic Taxonomy, National Environmentalist Association and Association for plant taxonomy.He received Dr. Mopuri Brahmam Memorial Award For Plant Diversity Conservation for the year 2014 by Orissa Botanical Society and NASI-Swarna Jayanti Puraskar 2015 for Best paper presentation by National Academy of Science, Allahabad.
---

Dr Isaac Dennis Amoah
Institute for Water and Wastewater Technology (IWWT)
Dr Isaac Dennis Amoah is an Environmental Microbiologists, with specific focus on health-related water microbiology. He obtained a Ph.D. in Health Sciences from the Durban University of Technology in 2018 and is currently employed in the Institute for Water and Wastewater Technology (IWWT). He has extensive expertise working on several research projects focusing on health risk assessment, wastewater-based epidemiology, antimicrobial resistance, water, sanitation and hygiene (WASH), water/wastewater reuse and waterborne parasites. Dr Amoah has been instrumental in initiating numerous research projects in these areas, helped secure research funding, coordinated and led various projects in this regard. He is a recipient of the 2019 Willie Grabow Young Investigator award from the Health-related Water microbiology Specialist Group of the International Water Association and other institutional awards. He has published over 40 papers, presented at 12 international and national conferences, with over 700 citations and an h-index of 13. Dr Amoah is an invited reviewer for several journals, the Czech Science Foundation,Consortium for Advancement of Research and Training in Africa (CARTA), the Water Research Commission of South Africa and the National Research Foundation. He is also a review editor Frontiers in Environmental Science: Wastewater Section.